After more than three decades,"Weird Al" Yankovic, the world's premier musical parody artist, has returned to the cinematic world.
On November 4, the silly songwriter debuted his new movie Weird: The Al Yankovic story on the Roku Channel for free.
Weird is a satirical film that evolved from a Funny or Die fake movie trailer from 2013.
The trailer portrayed Yankovic's rise to fame in the early to mid-eighties as meteoric and fraught with turmoil.
Having grown up in a home where his parents discouraged his love for the accordion, the fictional Yankovic's life of fame would eventually spiral out of control.
Al Parodies Himself in Weird
In stark contrast to the real Yankovic, the onscreen version brilliantly parodies his true story and personality—which couldn't be more different.
The real Yankovic, who is (mostly) vegan, doesn't smoke, drink or do drugs like his Weird counterparts.
In the original trailer, Aaron Paul from Breaking Bad portrayed Yankovic, but Harry Potter actor Daniel Radcliffe stepped into the role for the new movie.
Filmmaker Eric Appel directed both the original trailer and the new movie.
But Weird is not Yankovic's first foray into film.
Al Hits the Silver Screen in UHF
Yankovic made his original movie debut as George Newman in UHF in 1989.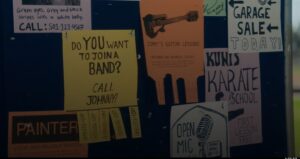 The parody-packed film featured a cast of notable actors, including Fran Drescher, Michael Richards, and Kevin McCarthy.
Despite underperforming during its theatrical release, UHF achieved cult film status in the following years on home video.
Paying tribute to its spiritual successor, Weird: The Al Yankovic Story visually references UHF more than once.
One reference I spotted appeared when Yankovic was looking to join a band as a young adult.
The bulletin board Yankovic pulls a phone number from has a flyer for Kuni's Karate School.
In UHF, Kuni, portrayed by Gedde Watanabe, taught karate in a studio next to George Newman's apartment.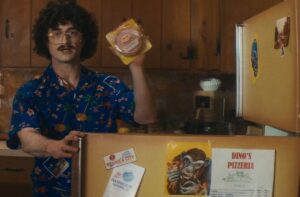 Kuni also hosted the Wheel of Fish game show on the U62 TV station, yelling his catchphrase, you're so stupid, at losing contestants.
Another reference manifests as a Spatula City magnet on a refrigerator.
Al's Fake Story of His Real Life
Weird: The Al Yankovic Story begins during Yankovic's childhood, with his father, Nick, adamantly disapproving of his dream of becoming a successful songwriter.
Yankovic's father, portrayed by Toby Huss, would express anger over his son's habit of changing song lyrics to make them funny.
The events of Nick's own life had pushed him into shunning anything to do with music and accordions.
A factory worker, Yankovic's father wants his son to work by his side at the factory when he grows up.
But despite Yankovic asking different people, no one can tell him what the factory makes.
Al's Dreams of Success
Yankovic's dreams of music, money, and fame are soon cemented in his head after an accordion salesman visits the house.
Despite the salesman receiving a thrashing from Yankovic's angry father, Al's mother secretly gives him the money for the accordion.
Actress Julianne Nicholson portrays Yankovic's mother, Mary.
With a newly-acquired accordion, Yankovic dedicates his life to secretly mastering the instrument.
Yankovic's dedication to the accordion publicly manifests when he attends a polka party with his friends one evening.
Polka Party, which the movie explicitly references, is a nod to Yankovic's 1986 album of the same name.
During the party, Yankovic's friends pressure him into playing the accordion at the party by doing the Chicken Dance.
Yankovic impresses the partygoers with his accordion skills before the police arrive and bust the party.
Al's Rise to Fame
But Yankovic's rise to stardom truly begins years later when his roommates challenge him to parody a song on the spot.
After initially declining to write an impromptu parody, Yankovic makes some bologna sandwiches for his roommates as My Sharona plays on the radio.
The song sparks something inside Yankovic's head, and he grabs his accordion to play a couple of bars of My Balogna.
Yankovic soon realizes the true power of his parodying skills.
After recording My Balogna in a bus station bathroom, Yankovic sends the song to The Captain Buffoon Show.
In 1979, the real Alfred Yankovic recorded My Balogna in a Cal Poly San Luis Obispo radio station (KCPR) bathroom.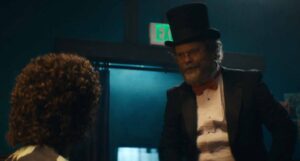 In the movie, My Balogna becomes an instant hit and grabs the attention of famous radio show personality, Dr. Demento, portrayed by Rainn Wilson.
Demento begins mentoring Yankovic, believing he possesses a unique talent.
Yankovic's music career quickly takes off, leading him into a cliché rock and roll lifestyle filled with screaming fans, substance abuse, and a toxic girlfriend.
In this story, pop singer Madonna, portrayed by Evan Rachel Wood, steps into the role of the toxic girlfriend.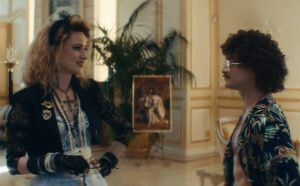 After a chaotic rise to fame and an inevitable crash, Yankovic eventually finds balance in his life.
At least for a bit.
I won't spoil the ending, but the movie probably doesn't end how you think it does.
Al Makes a Second Movie Worth Watching
With Weird being the first full-length Yankovic film in a few decades, I can say it's what I've been waiting for for a long time.
I've hoped for a second "Weird Al" Yankovic film since I saw UHF for the first time because the man is a creative genius and a comedy treasure.
And he makes us laugh.
And the world is blessed to have him.
Yankovic's signature brand of humor is all over Weird, which he co-wrote with Appel.
The movie adeptly walks the line between reality and fiction and presents it in a hilariously absurd way.
With plenty of laugh-out-loud moments, Weird is a movie you should consider adding to your watch list.
If you want to watch Weird but don't have a Roku device, you can view it on the web by creating a free Roku account.
Images: Roku