Industry growth in the across the country has created a need for cannabis career education in many states.
One of the latest institutions to begin implementing cannabis career education is Bergen Community College (BCC) in Paramus, New Jersey.
On Wednesday, BCC announced its launch of multiple programs that can give students a foothold in the growing cannabis industry.
Citing Morningstar research data, BCC says the U.S. is a $10 billion industry with potential for massive growth in future decades.
President Eric Friedman, Ph. D. says BCC is currently one of the only colleges in New Jersey offering comprehensive cannabis education opportunities.
"Community colleges respond to demands of industry, workforce, and the local economy, says Friedman. "With our cannabis programs, Bergen can create new pathways to employment in New Jersey."
The first program focuses on clinical research, development, and commercialization field careers.
BCC says the program utilizes the college's biology and horticulture department to prepare students for their careers.
Students begin with foundational learning courses Plant Science (HRT-102) and People Plant Relationships (BIO-130).
Next, the program takes students through the recently-approved Physiological Action of Cannabinoids in Humans (BIO-250), and Commercial Practices for the Production of Medical and Industrial Cannabis Species (BIO-251).
Cannabis Education with Options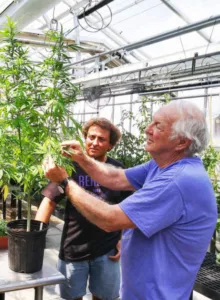 BCC says students can complete the 18-credit program in as few as three semesters.
When they graduate, BCC will award them with a certificate of achievement.
Students can choose to enter a career or transfer their credits to a four-year institution to pursue a bachelor's degree.
BCC offers additional certificates through its Division of Continuing Education and Workforce Development's partnership with education provider Green Flower.
Green Flower-provided education focuses on dispensing, cultivation, and manufacturing careers.
BCC says the eight-week programs prepare students for immediate entry into the workplace as dispensary agents, cultivation technicians, and manufacturing agents.
The self-paced online programs focus on best practices and furthering students' cannabis workplace skills.
After completing the coursework, students can use Green Flower's exclusive employer network to find a job.
"As the largest community college in New Jersey, Bergen Community College's history and commitment to helping working adults find and build new careers through quality, access, and affordability is second to none," says Green Flower VR of Higher Education Daniel Kalef. "Like other highly regulated industries, the need to have expertise in material handling, quality control, patient care, security, transportation, horticulture, and more is vital to the success of all aspects of the industry and all things people will learn in those courses."
BCC will hold a virtual information session for interested students on Monday, March 27, at 2 p.m. at cannabisworkforcetraining.bergen.edu.
For more information, including enrollment, call the Continuing Education Department at (201) 447-7488 or email continuinged@bergen.edu.