Microarray tech company PathogenDx has released a new sample prep system for cannabis and hemp pathogen testing.
Earlier this month PathogenDX announced its new Octa AutoPrep Station.
The company says the system is easy to use and compatible with its Detect-Combined and Quant fungal and bacterial assays.
The Octa AutoPrep Station is also compact, measuring 12" x 18" x 18".
PathogenDX says it developed the systems to ensure the safety of cannabis and hemp products for consumers nationwide.
PathogenDx CEO Milan Patel says testing and resources need optimization as the cannabis and hemp industries continue expanding.
"With our suite of fully compatible AOAC-certified assays, Octa AutoPrep Station is a natural extension to driving operational efficiency at cannabis and hemp testing labs, delivering 88 percent lower labor costs, up to eight times less consumable waste, and 73 percent less hands-on time—a quantum leap in operational efficiency," says Patel. "Punching well above its weight class, it's super compact and space efficient and maximizes sample prep throughput to hands-on time."
Saving Time and Money
PathogenDx says the system uses Octa prep kits with all necessary consumables and reagents.
In testing, reagents help identify substances through chemical reactions.
The company says the reagents save on lab costs because they do not need refrigeration.
According to the company, Octa can run 24 samples in a prefilled 96-well reagent plate and process eight samples per run.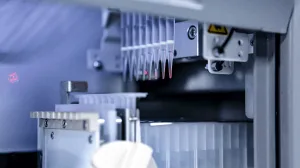 PathogenDx says the new system doesn't require technicians to change plates or tips between sample preparation steps.
According to the company, the average hands-on time for each sample is 37 seconds with the new station.
The system utilizes single-use pipette tips that run nucleic acid from samples through the lysis, washing, and elution steps.
Patel says cannabis and hemp testing labs have high turnover rates and variable staff shortages, forcing them to retrain new staff.
"Having to retrain new staff over and over again due to attrition can negatively impact the quality of work, throughput, and lab productivity," says Patel. "The beauty of our Octa AutoPrep Station is that, in addition to the substantial cost savings, essentially anyone can run it with the touch of a button. We have simplified the use of this device to a point that literally very little training is needed. Also, the Octa solution takes the variability out of the equation that is inherent in technicians that process lab samples manually, providing exceptional utility and economic value to testing labs."
PathogenDx says the system's streamlined workflow helps produce reliable results, benefiting operators and labs.
Images: PathogenDX