It's June, summer arrives on Wednesday, and Hemper has new subscription boxes for smiling marine mammal enthusiasts.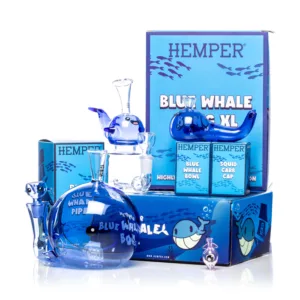 Hemper's latest highly curated monthly subscription boxes have the usual rotating selection of essential smoking accessories and something extra-special, like always.
Last month, the Bubble Box popped onto the scene to celebrate spring in the highest, soapiest way possible.
But for June, a happy-and-high whale pod has swum into Hemper's shop to usher in the summer months.
Even if you're not into whales, the pieces in this month's collection are pretty fun, and as always, there are options.
The June Boxes
Each month, Hemper offers subscription boxes in Mini, Standard, and XL varieties to suit different budgets and tastes.
All three boxes include smoking accessories, collectible stickers, and a themed glass pipe, bong, or dab rig.
Customers can purchase items individually on Hemper's website, but the subscription boxes provide a nice bundle discount.
The Mini
For $20, the June Mini Box includes everything needed for a summertime seaside smoke session, minus the flowers, of course.
The box includes a Blue Whale Pipe, Clipper lighter (assorted), beeswax hemp wick, and Hemper Tech Freshwipes.
Spend a few moments smoking with the pipe, and you'll be as happy as it looks.
The Hemper Box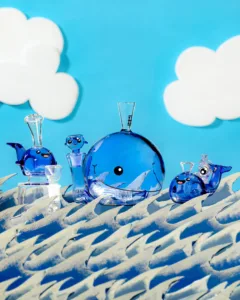 If you want more blue whale for your buck, check out this month's (Standard) Hemper Box.
The Box includes Skunk Brand Hemp Wraps, Hemper Quick Hitters, a Clipper lighter (assorted), terp pearls (glow-in-the-dark), a sticker, and a combat knife dab tool.
It also comes with a Hemper Keeper (assorted), a convenient little smell-proof stash jar with a built-in grinder.
But the star of the $39.99 Hemper Box is the happy little glass Blue Whale wrapped up inside.
The Blue Whale works as a bong or dab rig with the 14mm glass flower bowl or quartz banger (included).
The piece has a relatively small chamber, ideal for more-flavorful and satisfying dabs.
The XL Box
Rounding out June's subscription packages is the XL Box. which includes a glass piece that'll have Captain Ahab wanting a dab.
The XL Box includes Fresh Wipes, hemp wick, smell-proof bags, Quick Hitters, Juicy Jay's (1 1/4), hemp wraps, and Formula 420 Cleaner.
The $150 box also includes a (large) rolling tray and a Hemper Vapor Station (dab straw station and bubbler).
But the grand centerpiece of the June collection is the Whale XL Bong, which includes a matching 14mm inside-out whale bowl.
There's also a squid carb cap that goes with the included 14mm quartz banger.
The Whale XL Bong has a large chamber, so experienced smokers can pull hefty lungfuls at their discretion.
It's a blue bong, but if you fill it with enough smoke or vapor, it turns white like Moby Dick.
Also, in case anyone was wondering–the blowhole water spout is where you inhale on the Standard and XL glass pieces, but it's the bowl on the pipe.
Either way, happiness is headed your way when you smoke from a blue whale.