Summer is here, wedding season has started, and here's a little wedding crasher advice—dab it up.
But I don't mean attend a marriage ceremony to which you weren't invited and take dabs the entire time.
I wouldn't recommend doing that, at least not without offering a dab to everyone else, because that would be rude.
What I mean is, if you like dabbing, check out 22Red's Wedding Crasher sauce-soaked diamonds made with live resin.
The Wedding Crasher strain (Hybrid), a.k.a. Triangle Mints #23, is Wedding Cake (Hybrid) crossed with Purple Punch (Indica).
The strain has a palatable parade of complex flavors, and with approximately 72 percent THC, its cannabinoid effects are pronounced.
The package that I received listed total cannabinoids at 83.75 percent.
That sounds like a party to me.
Over the weekend, I got to try a gram of Wedding Crasher that 22Red sent.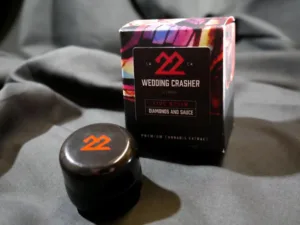 The first thing I noticed about the product was its sleek packaging.
From the artfully-styled box to the stylish black glass jar, the packaging has a well-crafted presentation—something echoed by the concentrates inside.
Dipping the dabber into the inky-black jar was like reaching through a portal into outer space and pulling out something cosmic.
It was a sign of things to come.
22Red Lifestyle
The packaging and oil are a reflection of the company's focus.
22Red operates as a lifestyle brand through its clothing, music, and quality cannabis.
System of a Down bassist and cannabis connoisseur Shavo Odadjian started the brand with a friend in 2018.
"I only smoke the best," Odadjian told Forbes. "I only want the best, I'm not a snob, but I only want to represent quality. I don't just want something that gets you high, I want something that makes you feel good and tastes good."
Odadjian's love of good cannabis shines through in Wedding Crasher's flavor and effects, making the strain an excellent brand feature.
22Red says it cryogenically freezes freshly-harvested flowers to preserve their cannabinoid and terpene contents.
The company grows the flowers without pesticides and uses a solvent-free extraction to deliver a full-spectrum, additive-free oil.
Let's Dab
A short distance between the banger and your tongue is ideal for the best flavor, so I used a soda-cup-style rig.
I heated the quartz banger with a propane torch and let it cool for about a minute and a half before dabbing.
Low-temp dabs give the best representation of a concentrate's flavor, and the oil I tasted was rich and complex.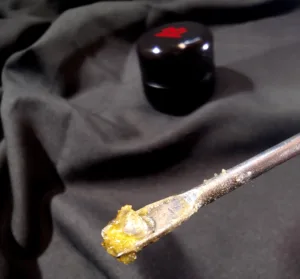 A smooth, musky, earthy flavor hit first, followed by gas and sweeter flavors like berry and a tiny bit of citrus.
The flavors didn't overpower each other but seemed to take turns instead, each taking time in the taste bud spotlight.
Each dab was a sort of flavor journey, a phenomenon I don't seem to experience with every strain.
The oil also gave me a bit of what I like to call "laser beam eyes."
The term doesn't mean having red eyes but rather feeling as if you could shoot laser beams from your eyes.
You know, like Cyclops from the X-Men.
The sensation is nice, and you don't have to wear a red lens over your eyes to protect everyone when you dab.
Though you may want some eye drops, depending.
I like using dabs for energy bursts before, and sometimes during, various activities like yard work or writing music.
I felt fairly focused on Wedding Crasher, though the energizing effects weren't as pronounced as those of a full Sativa.
For some, Wedding Crasher may work best as an evening dab; it made me feel a little sleepy toward the end.
But if you're a daytime dabber, a quick 15-minute power nap can get you going again.
From start to finish, I found 22Red's Wedding Crasher a pleasure to dab, and I enjoyed its flavor parade.
Overall, its flavor and effects make it a concentrate that I can easily recommend.
If you want some good concentrates for 7/10, which is less than two weeks away, 22Red's Wedding Crasher is a fun party guest.
22Red's Wedding Crasher concentrates are available at Arizona cannabis retailers.